Industrial Colloquium 2022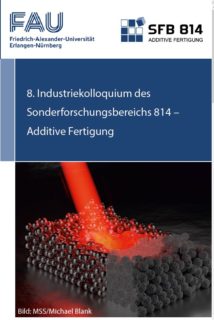 Industrial Colloquium 2022
After a two-year break, we want to invite you to our Industrial Colloquium 2022, which will take place on May 10th, 2022, at the institute for polymer technology in Erlangen.
Besides our scientific presentations, we would like to give you an insight into the measurement methods and process analysis of the CRC 814.
Within our colloquium program, we aim to present findings in the following fields:
• Design strategies for thin-walled components in PBF LB/P and fundamental results in the field of the geometry-dependent process- and part behavior
• Simulation of residual stresses in PBF LB/M
• New processing strategies for metal parts with graded part properties through local in-situ alloying
• Quality management methods for additive manufacturing
Furthermore, the Oechsler AG and Robert Bosch GmbH will offer an overview on industrial additive manufacturing of polymers and metals.
Please find the flyer with the detailed program and registration form under the following Links:
Flyer & Program (German)
Registration-Form (German)
If you require any further information, feel free to contact Andreas Jaksch.
Managing Director
Institute of Polymer Technology
Lehrstuhl für Kunststofftechnik (LKT, Prof. Drummer)