g'scheid schlau! 2021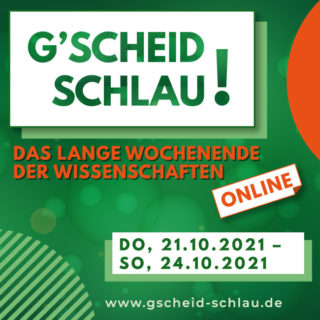 Additive manufacturing – Turning an idea into an innovation
the CRC 814 will take part on the first digital science event "g'scheid schlau! – das lange Wochenende der Wissenschaften". Over four days, from the 21. to 24. October 2021, different institutes and companies in Erlangen-Nuremberg will explain the newest research results to a broad audience.
Additive manufacturing processes enable the production of components with entirely new designs and the possibility of functional integration through previously unattained geometrical freedom. As a result, functional components can be produced that cannot be manufactured by using conventional processes. Lightweight construction, in particular, is seen as a driver for the megatrends of the future, whereby additive manufacturing is regarded as a disruptive technology.
The Collaborative Research Center 814 – additive manufacturing is settled at FAU Erlangen-Nuremberg and has been conducting basic research on additive manufacturing processes in the field of plastics and metal processing since 2011. The research covers all steps from material and process development to the final component.
Within the presentation of the CRC 814, different additive manufacturing technologies – for the production of plastic and metal components – will be introduced, and exemplary applications of the different technologies will be shown. Afterward, the speakers will be available for a Q&A session.
Join us on Sunday, the 24.10.2021 at 11:30 Uhr.
Further information you can get under https://www.gscheid-schlau.de/